Our St. Louis Area Yarn Crawl is only a scant two weeks away! The Summer's Last Blast Yarn Crawl will take place Friday, July 28 (10 am to 7 pm); Saturday, July 29 (10 am to 5 pm); and Sunday, July 30 (Noon to 5 pm). It includes five area shops: The Bead Place, Hearthstone Knits, Kirkwood Knittery, Knitorious, and us, The Weaving Dept. Look for the Passport to print out (or grab yours at the first shop you go to) on the Summer's Last Blast Yarn Crawl Facebook page. Get those passports stamped to be entered to win a Globe Trotter prize or a $50 Gift Certificate from one of the participating shops!
The Weaving Dept. is Ready for You!
The Weaving Dept. has been getting prepared with some fun things for this year's crawl including some brand new yarns, planned demonstrations in different types of weaving, and a fun community yarn bomb project for our store front. All these things are getting us really excited here at the Weaving Dept., and we can't wait to share them with all your lovely faces!
For now, here's a look at a special yarn getting packed up in Seattle just for us and you for the crawl!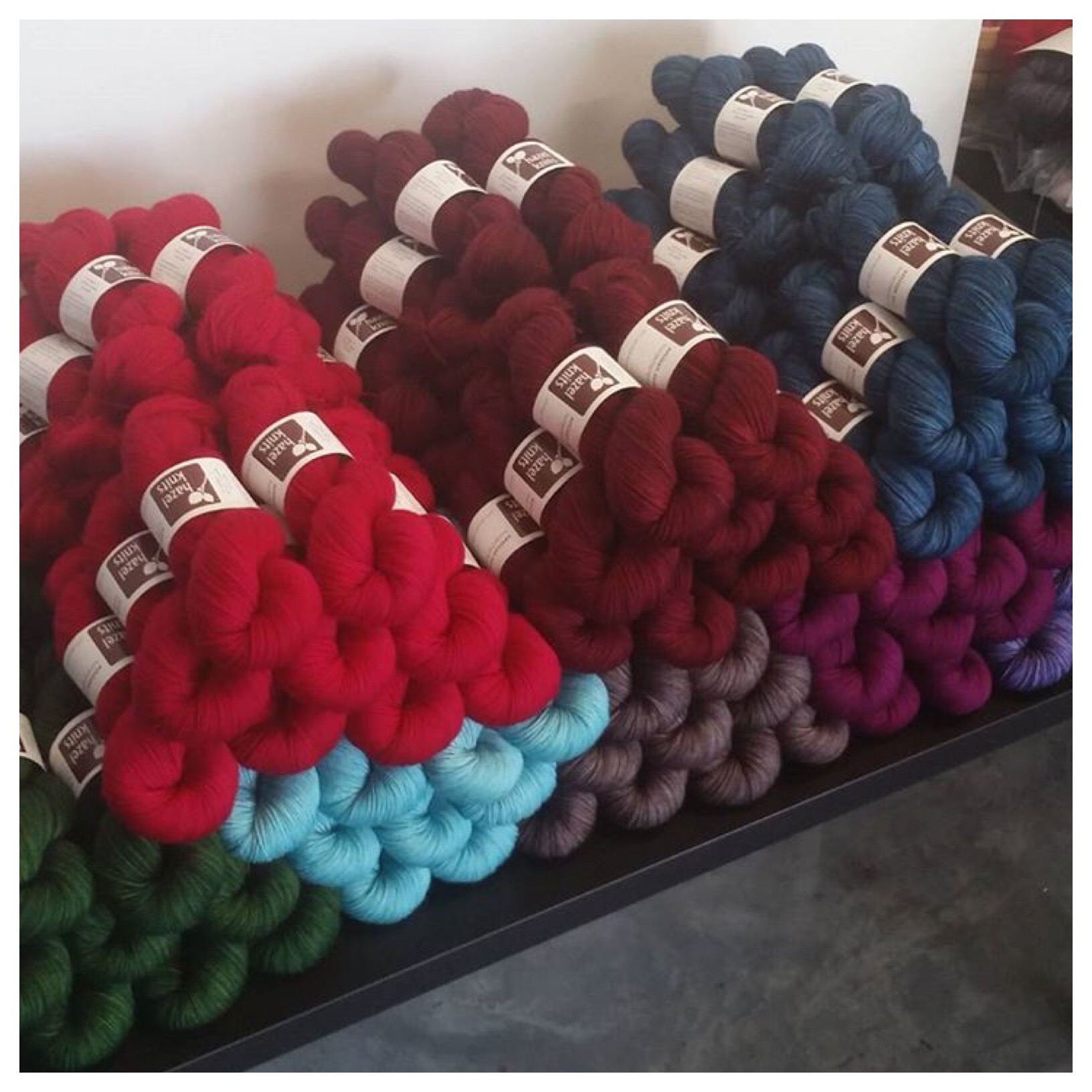 Hazel Knits is packing up a special order just for the Weaving Dept. Make sure you make it in to see these colors in person!
Hazel Knits has so many rich tonal colors that just seem to have so much vitality. Wendee and Dave have been perfecting their craft since 2007, and we feel very lucky to be able to bring you some of our favorite colors to you this Yarn Crawl.
We will be getting in 8 different colorways in Hazel Knits Artisan Sock Base. Information on this yarn follows directly from Hazel Knits website:
This superwash fingering weight merino wool, custom-milled exclusively for Hazel Knits, has a tight twist giving you beautiful stitch definition. The 10% nylon provides added strength making it perfect for socks, but in colors this pretty, it is a great choice for shawls, sweaters and mittens as well.
90% superwash merino, 10% nylon
400 yards, 120 grams (skeins put up by yardage, weight may have slight variance.)
8-10 stitches per inch
US size 1-2 needle
Recommended care:
Handwash with mild, wool friendly detergent in tepid water. Lay flat to dry.
May be machine washed on gentle cycle and machine dried at low temperature. If your washing machine has an agitator post, please wash your garments in a mesh laundry bag to prevent the item from wrapping around the post.
Listed gauge is for sock knitting. May be knit at a looser gauge for shawls, sweaters and other accessories.